Stone Free: A Tribute to Jimi Hendrix (1993) - V.A.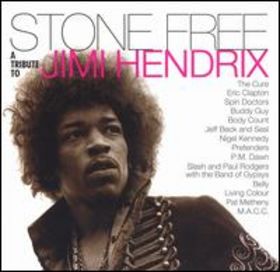 1. Purple Haze (Cure)
2. Stone Free (Eric Clapton/ Nile Rodgers/ Bernard Edwards/ Tony Thompson)
3. Spanish Castle Magic (Spin Doctors)
4. Red House (Buddy Guy/ Billy Cox)
5. Hey Joe (Body Count)
6. Manic Depression (Seal, Jeff Beck)
7. Fire (Nigel Kennedy)
8. Bold As Love (Pretenders)
9. You Got Me Floatin' (P.M. Dawn)
10. I Don'T Live Today (Slash/ Paul Rodgers/ The Band Of Gypsys)
11. Are You Experienced? (Belly)
12. Crosstown Traffic (Living Colour)
13. Third Stone From The Sun (Pat Metheny)
14. Hey Baby (Land Of The New Rising Sun) (M.A.C.C.)
15. I Don't Live Today(Jimi Hendrix)
16. Berksndchek-Power Of Soul Intro Only(Jimi Hendrix)


TAG
Band Of Gypsys
,
belly
,
Billy Cox
,
Body Count
,
Buddy Guy
,
Cure
,
eric clapton
,
Jeff Beck
,
jimi hendrix
,
Living Colour
,
M.A.C.C.
,
Nigel Kennedy
,
P.M. Dawn
,
Pat Metheny
,
Paul Rodgers
,
Pretenders
,
Seal
,
Slash
,
Spin Doctors
,
Tribute Albums