Rock
2006. 12. 12. 18:36 |
Live At The Forum Inglewood (1968) - Deep Purple MK I


Deep Purple a prestigious U.S. live debut on October 18th 1968, opening for Cream on their farewell tour of America at the Forum in Inglewood, California.
MK I
Ritchie Blackmore : guitar
Rod Evans : vocals
Jon Lord : keyboards
Ian Paice : drums
Nick Simper : bass
01 - Hush
02 - Kentucky Woman
03 - Mandrake Root
04 - Help !
05 - Wring That Neck
06 - River Deep, Mountain High
07 - Hey Joe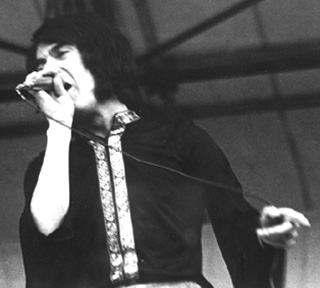 Rod Evans onstage with Deep Purple.
Where is he now?

MK I 의 보컬인 Rod Evans는 후기 MK II의 Ian Gillan이나 MK III, MK IV의 David Coverdale과는 다르지만 1기의 Jon Lord의 KeyBoard주도의 서정적인 보컬에는 잘 맞았다.
Donovan의 "Lalena", "April", Animals의 "River Deep, Mountain High"을 들어 모면 후기 보컬에 뒤지지 않는데 유독 평가를 못받고 있다.
한데. 위의 말처럼 그는 지금 어디에 있나?