Blues
2007. 2. 7. 14:33 |
Jersey City 1974 - Eric Clapton

Live at Roosevelt Stadium, Jersey City, New Jersey, July 7, 1974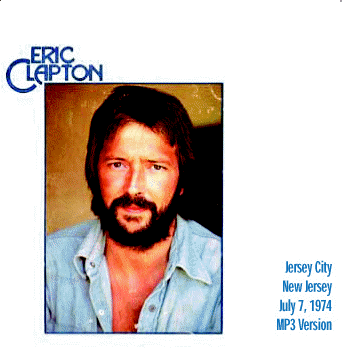 On the road to promote 461 Ocean Boulevard, Eric Clapton must have disappointed his fans when he played only three tracks from the new album - Let It Grow, Willie And The Hand Jive and Get Ready.

One posting on the internet says that in this show, Eric Clapton was very "loose" (that is, drunk), especially on vocals. Whether he was "loose" or drunk, he was in a fairly mellow mood, dragging out the gospel-ish Let It Grow. But he was not so out-of-it that he couldn't play - Let It Rain has a nice jam at the end (after which Clapton says to the crowd, "don't mind if I have a drink") and he gets into the groove on Key To The Highway.

But then Clapton must have a lot on his mind to contend with. After his drug-addled days, his record company might be thinking that Clapton wouldn't last the distance - hence they taped practically every show on this tour and eventually released the rather brief EC Was Here. Then he had Yvonne Elliman as backing vocalist. Elliman was married to Bill Oakes, the president of RSO Records; Oakes introduced her to Clapton, who "invited" Elliman to sing backup vocals on I Shot The Sheriff. "Invited" is probably a too-polite term. On his own Clapton was probably still thinking of Patti Harrison (hence the recurrence of Badge, a song written with George Harrison). But he seemed to have gritted his teeth somewhat and carried on - otherwise why would he open his shows on the 1974 tour with Charlie Chaplin's Smile, with the happy-sad lyric, "Smile though your heart is aching"?

While Willie And The Hand Jive has existed with a faster tempo, here, it sort of shares the same terrain as the reggae-inflected I Shot The Sheriff (which is sorely missed). Though many might disagree, this was not a show of guitar artistry or pyrotechnics - though there was some outstanding playing on Have You Ever Loved A Woman. The key word is groove, as this excellent soundboard recording makes clear. Take Badge for instance. While the song is a Cream/Clapton classic, he lets the intro run on and on (because it grooves) and one keeps expecting Carlos Santana to jump in!

As a treat, Freddie King appears on Have You Ever Loved A Woman and Little Queenie.
Eric Clapton : guitar
Carl Radle : bass
George Terry : guitar
Jamie Oldaker : drums
Dick Sims : keyboards
Yvonne Elliman : vocals
01 Smile
02 Let It Grow
03 Let It Rain
04 Key To The Highway
05 Willie And The Hand Jive
06 Get Ready
07 Presence Of The Lord
08 Badge
09 Tell The Truth
10 Have You Ever Loved A Woman
11 Little Queenie