Deadicated: A Tribute to the Grateful Dead (1991) - V.A.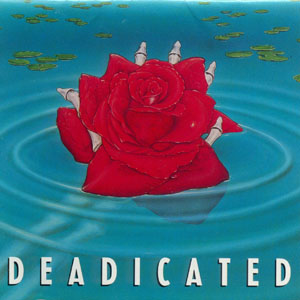 1. Bertha - Los Lobos
2. Jack Straw - Bruce Hornsby & The Range
3. U.S. Blues - The Harshed Mellows
4. Ship Of Fools - Elvis Costello
5. China Doll - Suzanne Vega
6. Cassidy - Suzanne Vega
7. Truckin' - Dwight Yoakam
8. Casey Jones - Warren Zevon/David Landley
9. Uncle John's Band - Indigo Girls
10. Friend Of The Devil - Lyle Lovett
11. To Lay Me Down - Cowboy Junkies
12. Wharf Rat - Midnight Oil
13. Estimated Prophet - Burning Spear
14. Deal - Dr. John
15. Ripple - Jane's Addiction
China Doll
A pistol shot, at five o'clock, the bells of heaven ring,
tell me what you done it for, No I won't tell you a thing.
Yesterday I begged you before I hit the ground,
all I leave behind me is only what I found.
If you can abide it, let the hurdy-gurdy play,
stranger ones have come by here before they flew away.
I will not condemn you nor yet would I deny,
I would ask the same of you, but failing, will not die.
Take up your china doll, take up your china doll,
it's only fractured and just a little nervous from the fall.
La-la-la-la-la-la-la.
TAG
Bruce Hornsby & The Range
,
Burning Spear
,
Cowboy Junkies
,
David Landley
,
Deadicated: A Tribute to the Grateful Dead
,
Dr. John
,
Dwight Yoakam
,
Elvis Costello
,
Grateful Dead
,
Indigo Girls
,
Jane's Addiction
,
Los Lobos
,
Lyle Lovett
,
Midnight Oil
,
rock
,
Suzanne Vega
,
The Harshed Mellows
,
Tribute Albums
,
Warren Zevon